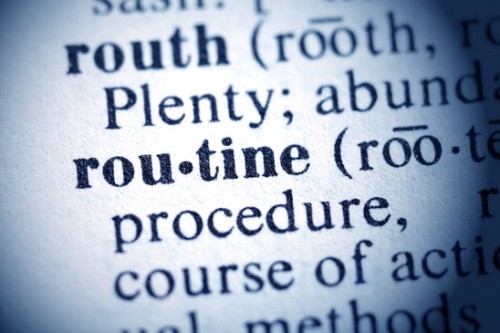 Habits, routines, rituals…
We all have them in some shape or form. Whether it's the way you prepare for work in the morning, or how you prepare for bed at night, we all have routines that we each carry out daily. No matter if you run a small blog, or are the CEO of a fortune 500 company, you still need to focus your efforts on strengthening your brand, increasing your social footprint, and growing your business.
Obviously, incorporating TrafficApe into your daily routine is a must, but there are many other things you must do to increase traffic and achieve success. Here's a quick and easy list.
1: Spend a few minutes earning traffic with TrafficApe (5-10 minutes)
There is nothing sexier than guaranteed page views each day. No matter if you are in the top 1000 ranked sites, or the last 1000, page views are page views and we can all benefit from increased exposure. Right?
2: Engage your social followers (5-10 minutes)
It doesn't take much effort/time to browse what's hot on Twitter in your industry and click the "retweet" link. Maybe follow one or two new users, and unfollow a few that you should have never followed in the first place. If you are up for the challenge, then spend a few minutes trying to find some original content to share on your own. Keep in mind that search engines index your Twitter and Facebook pages, so having more original content can really help with your organic search results.
3: Check your webmaster tools and analytics (5 minutes)
If you are not using Google and Bing webmaster tools then you are missing out on a key element of being successful. Webmaster tools allow you to get your pages indexed faster, and allow you to see if there are any potential issues with your site that prevent it from ranking higher in search results. Spending a few minutes a day looking into your tools helps you stay sharp and ensures you keep your site optimized.
Viewing your analytics is a great way to see what impact the smallest changes you make to your site can have. Bounce rates, page load times, page views, traffic sources, all can give you great insight into what you are doing correct or incorrectly each day.
4: Check your Alexa ranking (1 minute)
Nothing motivates you better than seeing the results of your hard work on a daily basis. Head over to Alexa.com and view your current ranking. Check out the competition while you are at it!
5: Check out the competition (5-10 minutes)
There is no greater way to make your product or service better than learning from others in your industry who do it best. How does their site look? What kind of promotions are they currently running? Who are they partnering with? Taking a look around at the list of your "usual suspects" each day can be a great way to get ahead.
Conclusion
Committing to even a few of these each day can make all of the difference in the world. Even if you don't see much improvement in the way of increased traffic immediately, creating a daily routine will keep you thinking about your business and your brand. Dedicating only 30 minutes or less each day on your routine is what will separate you from your rivals.